In Years F-2 students practise a wide range of Fundamental Motor and Locomotive Skills. Skills including Rolling, Underarm Throwing, Overhand Throwing and Catching, Bouncing a ball (dribbling), Kicking, Punting, Running, Dodging, Forehand Strike, Two-handed Sidearm Strike, Jumping and Leaping are introduced and consolidated with students focussing on developmentally appropriate skill components at various stages in these early years. Students also explore other movements using different equipment (such as scooter boards, skipping ropes, obstacle courses, parachutes), whole-body gymnastics skills (including various rolls and balances), and different travelling movements (e.g. skipping, galloping, marching and different crawling techniques e.g. bear, crab, commando). Students also learn to work cooperatively, move safely within boundaries and use equipment appropriately, and follow activity-specific rules and instructions.
In Years 3 and 4 students consolidate their skills during increasingly complex activities while being introduced to variety of game-sense strategies which are applied in small-sided games. Students learn different skills and strategies integral to Invasion Games (e.g. Soccer, Netball, Basketball), Striking and Fielding Games (e.g. Cricket, T-ball, Kick-ball), Target Games (e.g Mini-golf, Bocce, Quoits) and Net/Court/Wall Games (e.g. Tennis and Downball). In each of these areas, students will focus on using a wide-variety of equipment, combining object control and movement skills, while learning different strategies for success. Students participate in a Gymnastics unit where they learn, consolidate, sequence and synchronise a variety of movements including different body rolls, jumps, shapes and balances. Students in these years will also be introduced to different Athletics disciplines involving running, jumping and throwing, and have the opportunity to try out for the Interschool Athletics team. Year 3 and 4 students also take part in our House Running Carnival which provides an opportunity for them to qualify for the Interschool Cross-Country Carnival.
In Years 5 and 6 students are provided with various opportunities to participate in interschool sporting teams, carnivals and gala days. Students have the opportunity qualify for Swimming, Cross-Country, Athletics and Soccer days and also participate in weekly Summer (Basketball, T-ball or Volleyball) and Winter (Australian Football, Netball or Volleyball) Interschool sporting teams. Students are explicitly taught the skills, strategies, movement concepts and rules for these sports during PE lessons across these years. They also take part in additional units/topics including Circus Skills and Fitness, as well as Ultimate Tag and Ultimate Frisbee using the SEPEP model which provides opportunities to participate in organised sporting competition within their classes while undertaking different roles such as referee, coach, scorer, time-keeper statistician, photographer and equipment manager.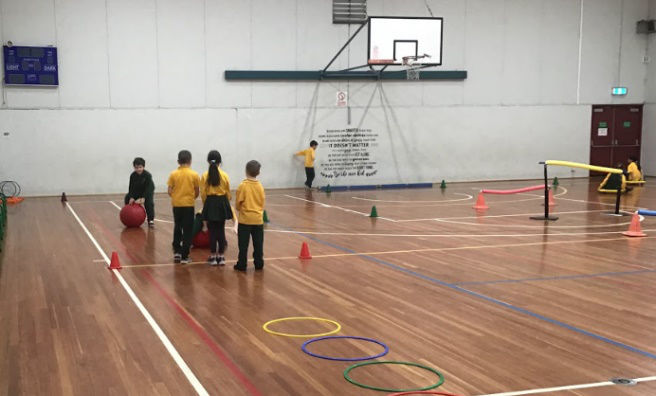 The vision of our school is to create a happy, safe and supportive environment for all students which will inspire and challenge them to achieve their personal best. We focus on the 'whole child' which includes the academic, social and emotional development of every student, with a focus on developing critical thinkers and lifelong learners.
This mantra drives our school improvement agenda. Our school motto of "Aiming for Excellence" guides our daily interactions and ensures there is a partnership between home, school and the local community.
In achieving this vision, it is imperative that along with developing high-level literacy and numeracy skills, KHPS will also develop students' skills and confidence in the use of digital tools and technologies.
Education has changed dramatically over the last decade and the availability and effective use of digital technologies in schools and beyond is fundamental. Secondary schools expect students to have developed a strong foundation in Literacy and Numeracy as well as the use of Digital Technologies and tools.
The 21st century skill set and confidence our students have already been developing will be used and extended by our students participating in the BYO iPad Program.
Please carefully read the details of our BYO iPad Program, in particular the Frequently Asked Questions section where we endeavour to address many of the questions and concerns parents may have.
See the JB-HIFI Online Portal tab for details on how to purchase an iPad through the KHPS portal.
If you have any further questions please don't hesitate to contact:
Ben Pickett
Benjamin.Pickett@education.vic.gov.au
Ryan Lynch
Ryan.Lynch2@education.vic.gov.au
All students at Keilor Heights Primary School (KHPS) attend a 60 minute Italian session once a week. The lessons take place in the Italian classroom. Signorina Taylor, the school's Italian teacher, gives classes with fun activities, emphasising an interactive and communicative approach. Through the use of songs, games, stories, arts and crafts, and role-plays, students practise Speaking, Listening, Reading and Writing in Italian.
A lunch-time choir meets once a week in the Italian room, where students are invited to learn Italian songs which can be performed at school assemblies and public events. There is also a developing relationship between Doutta Galla Aged Care Home in Avondale Heights, with students making Italian Easter and Christmas cards for Doutta Galla, which have proven to be very popular with the residents!
The Languages curriculum aims to develop students' ability to communicate in a second language, but also their understanding of themselves as language learners in Australia, one of the world's most multicultural countries. Through examining the similarities and differences between the languages and cultures of Italy and Australia, students learn to embrace cultural and linguistic diversity.
Australia has a long history of Italian migration, beginning with Giuseppe Toso, a convict on the first fleet in 1788. Then, Raffaello Carboni, who helped organise the Eureka Stockade in Ballarat in 1854, later writing a book called, "The Eureka Stockade", a detailed first-hand account of the battle. Then, following World War II, large numbers of Italians escaped the devastation of the war in Europe by migrating to Australia, bringing their love of socialising with good Italian food, wine and coffee with them.
The City of Moonee Valley is a popular region for Melbourne's Italian community, making Italian a natural language choice for Keilor Heights Primary School. Famous Italians from Keilor East include the pop singer, Tina Arena, and John Barbuto, founder of JB Hifi. We honour the Italian contribution to Melbourne culture at KHPS by exploring the language and culture of Italy, "il bel paese" ("the beautiful country"), a very popular travel destination nowadays for Australian overseas travellers. It is hoped that many KHPS students will one day visit Italy and enjoy it all the more for learning about it at KHPS.