The study of The Arts is a unique, expressive and creative form of communication that hopes to engage all. Students are given the opportunity to Explore, Express, Pracitce, Present, Respond and Interpret their own and other creative work. The Arts promotes creative problem solving, self-expression and imagination in a range of different forms.
Visual Arts
During visual arts sessions the students explore many different art elements such as line, shape, colour, texture, tone and pattern. Through the creative fields of drawing, painting, printing, collage, modelling, construction, and textiles, students develop their skills and explore the creative potential of a wide variety of visual art materials. They study Artists' work from all around the world including local Australian artists, considering the artists' backgrounds, inspiration and techniques.
Each Art activity aims to develop children's individual creative and artistic skills, while using a vast variety of materials and techniques. Students are encouraged to reflect upon their own artworks and give constructive feedback on the artworks of their peers.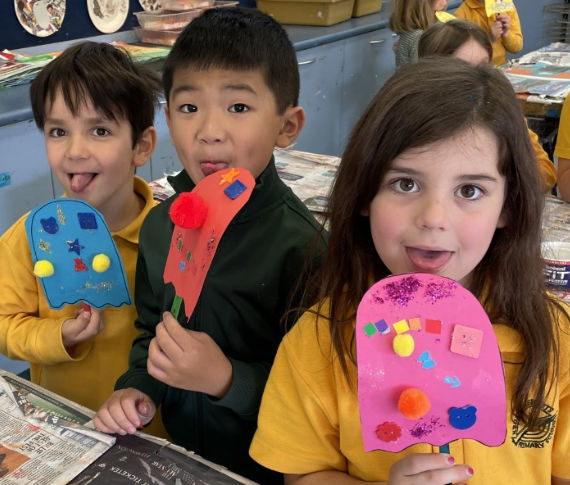 Performing Arts
The Performing Arts curriculum incorporates Music, Dance and Drama. At Keilor Heights Primary, Performing Arts provides every student with the opportunity to express themselves creatively and to plan, play, create and perform. There is a focus on audience behaviour where students watch each other and give feedback regarding their performances.
In Music the students are given the opportunity to use both untuned instruments, as well as percussion instruments to learn about the many elements of music such as beat and volume. They also are given the opportunity learn simple musical notation.
A variety of Dance styles are taught in the program including set routines and creative movement. This develops student confidence and coordination. The elements of dance include body awareness, action, space, time and energy.
In Drama, the children enjoy simple role plays and improvisations using props and costumes to create characters and tell stories.
In addition to the Performing Arts class program we also offer instrumental lessons in keyboard. Inquiries are welcome at the office. Students are welcome to join the school choir & join rehearsals weekly. The choir performs at school assemblies, school picnics and external concerts as opportunities arise. Previous performances have included the State School Spectacular.